Health is a key component to everything we do. It affects everything from simple tasks such as eating, sleeping to major functions and activities like walking and coordinated movements. Our performance and productivity directly correlate with our wellbeing.
Majority of the common diseases that our society has to face in lifetime are preventable. For example; cardiovascular diseases, diabetes and chronic lung diseases. Individual health is mainly depends on genetic and environmental factors. Therefore, it is important to have a healthy lifestyle and aware of diseases run in the family. A regular check-up can give a sense of assurance that they are in good health for those who have a family history of certain diseases. It will also provide you with information where you should make adjustments in your diet and physical activity levels. By catching diseases, disorders and conditions before their symptoms visibly manifest, we can save our patients time, discomfort and money. Regular screenings can detect certain diseases and increase life expectancy by preventing further progression of the disease with immediate management and treatment.
To encourage more patients to get screened regularly, we offer special packages for different kinds of physical examinations. You may either select one of our existing check-up programs or consult a physician or a specialist to create a customized program tailored to your specific needs.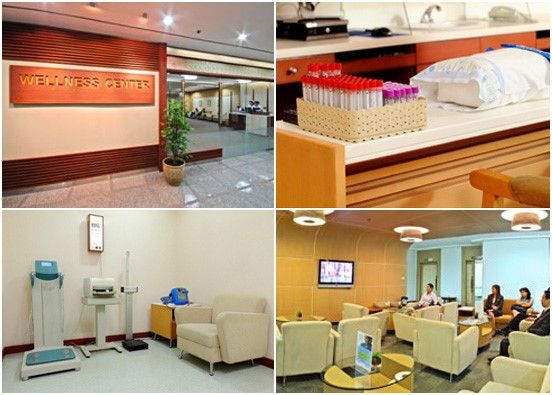 Available Services
We offer a large selection of health check-up program options and packages, including:
Pre-life insurance health check-up performed by a physician appointed by the insurance company
Pre-school health check-up
Pre-employment health check-up
Health check-up for visa and work permit (for non-Thais)
Health check-up for obtaining a driving license
Mobile health check-up
General health check-Up
Annual health check-up
Pre-employment health check-up
Health check-up for corporate employees
Health check-up before traveling overseas
Silver package health check-up program
Platinum health check-up program
Diamond health check-up program
Woman health check-up program
Vaccinations against influenza and other common viruses
We offer screening for numerous health conditions, including:
ABO blood type
Rh Factor presence to determine if precautions must be taken during pregnancy
Complete Blood Count (CBC) to detect underlying medical conditions
Venereal Disease Research Laboratory (VDRL) test for syphilis and other conditions
HBsAg for hepatitis B
Human Immunodeficiency Virus (HIV)
Rubella IgG to confirm the presence of immunity to the rubella virus
Hemoglobin (HB) typing to test for abnormal hemoglobin
Breast cancer (mammogram)
Bone density and osteoporosis
Available Medical Facilities
Private examination and consultation rooms
VIP examination suite and VIP lounge
Vital signs and visual activity check-up rooms
Electrocardiogram (EKG) rooms
Pelvic examination room
Complete imaging and lab facilities
Private room for consultation and health check-up
Waiting area
Room for blood test
Brachial index test room
X-ray and radiography room
Room for checking pulse and vital signs
Eye screening test room
Private room for examining women only
Hearing test room
Room for assessing body composition
Radiography room
Exercise stress test equipment