The skin is the largest organ in the human body and one of the most vital. Much of an individual's beauty and youthful appearance can be attributed to supple, healthy, well-nourished skin. Unfortunately, years of stress and environmental factors such as pollution can take their toll on this fragile covering. Expert dermatologists are well-versed in the latest available technologies and techniques to smooth away wrinkles and take years off of your face. To do so, a variety of methods are used, from the ever-popular Botox to the less invasive Dermalift, in which a mild electrical current stimulates the facial muscles without surgery or injections.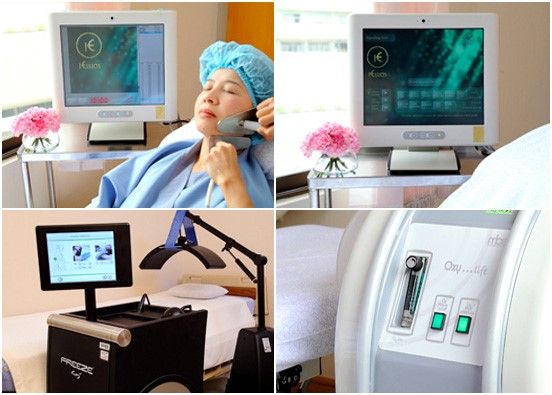 We offer corrective procedures for unsightly varicose veins, moles, warts, tumors, discoloration, uneven pigmentation or teenage acne. Also take care of dry, itchy skin riddled with recurrent eczema and make sure that sensitive skin types get the gentle care that they need. We can even get rid of that embarrassing tattoo you've been trying to cover up for years. In everything we do, we maintain the same high level of international care for which we are globally recognized and JCI-accredited.
Available Services
General dermatology
Diagnosis and treatment of skin, hair and nail disorder
Diagnosis and treatment of skin cancer
Skin patch test for allergic dermatitis
Laser surgery
Skin laser rejuvenation
Skin resurfacing to remove wrinkles and acne scars
Removal of warts
Treatment of port-wine stains/birthmarks
Treatment of unsightly blood vessels and leg veins
Removal of unwanted hair
Dermatological surgical procedures for moles and cysts excisions
Cosmetic dermatology
Botox
Sclerotherapy for leg veins
Problem with body structure, figure, cellulitis and skin smoothness
Removal of age spots, sunspots and pigmented lesion
Cryotherapy
Filler injection for tissue augmentation
Microdermabrasion
Endermology
Accusculpt
Ear piercing
Endermologie to eliminate cellulite
Lipodissolve therapy, which reduces fat deposits with soybean extracts
Carbon dioxide therapy, which increases degradation of fat and tightens = skin
Radiofrequency to increase fat utilizations, as well as remodel and firm skin
Vibrational exercise equipment
Available Facilities and Medical Technologies
Collagen remodeling laser – painless and non-irritating technique to stimulate new collagen synthesis resulting in tightened skin texture, wrinkle and scar reduction
Intense Pulsed Light (IPL) – reduces red marks and discoloration
Erbium glass fractional laser – simple and rapid treatment of sebaceous tumors
Carbon dioxide laser – treatment for skin tumors, moles and warts
Pigment laser – scar-free therapy for tattoo removal
Alexandrite hair removal laser – a highly efficient means of permanent hair removal
Vascular laser – for varicose veins and other vascular problems
Cool laser (low power energy laser) – for acne, melasma, marks, scars and allergy-induced skin problems
New A Peel – Diamond peel technique for collagen stimulation and new cell production and skin tightening, as well as reducing acne, wrinkles and scars
Oxy Life – highly advanced technique to feed and revitalize the skin by oxygen jet and spray
Microdermabrasion equipment – special exfoliation system
Collagen mask and eye mask – revitalize and moisturize the skin, lessen unpleasant dark and swollen area around the eyes.
Phonophoresis – special ultrasound to deliver vitamins and skin nutrients to the dermis in order to moisturize as well as strengthen the skin and reduce puffiness under eye area.
Iontophoresis – low-energy electrical power to embed the nutrients and medicine into the skin, resulting in brighter and younger look.
AHA – natural fruit extract to remove aged skin cells on facial surface.