Human's bones seem solid as a rock but it tends to deteriorate as we age. Bone is living part of our body, like any other part, and it is prone to injuries, infections as well as nutritional, genetic, and cancerous disorders. Bone is also an essential organ that helps protect other important internal organs whilst sustaining the body's structure and movement. Only a person with healthy bones will be able to perform daily activities normally. Therefore, it is important to make sure one is taking good care of their bones by having balance diet and exercises. And seek health care immediately to receive quick and timely diagnosis once problems have arrived.
Our Sports and Orthopedic Centers reache out to anyone suffering from orthopedic injuries, or from acute or chronic damage to bones and joints. Our center brings together a highly accomplished team of 38 orthopedic surgeons, physical therapists and sports injury and physical rehabilitation experts. We pair these experienced experts with the the latest orthopedic and physical rehabilitation equipment, ensuring all patients receive the best possible care.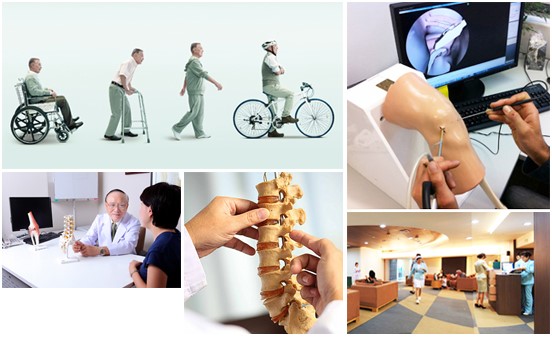 Available Medical Investigations
Blood Test: As needed.
Example: Complete Blood Count, Fasting Blood Sugar, Lipid Profile, Liver Function Test, Kidney Function Test, Vitamin D level, ALK PHOS, PHOS, BMD (DEXA-Total Body) and etc.
X-rays: electromagnetic radiation that penetrates structures within the body and creates images of these structures on photographic film. X-rays images help to identify the severity and type of the fractures and also the surrounding structures of the bones.
CT Scan: It uses X-rays to make more detailed pictures of parts of your body and the structures inside your body. Provide more information of both bones and surrounding tissue.
Bone Scan: It is a nuclear imaging test that helps diagnose and track several types of bone disease.
Available Services
General Orthopedic Clinic for treatment and surgery for broken bones
Surgery to correct joint stiffness
Treatment and prevention of osteoporosis and surgery to correct broken bones caused by osteoporosis
Spine Clinic for treatment and surgery of spine and neck bones
Surgery to correct scoliosis and spinal stenosis
Treatment of intervertebral disc by NSAID injection into spinal canal
Surgery to correct degenerative disc disease and C-spondylosis using endoscopic spinal surgery and minimally invasive surgery with navigator system for surgery planning
Treatment of broken spine using percutaneous vertebroplasty technique
Treatment of broken spine and osteotomy from accident
Surgery to treat spinal infection and tuberculosis of spine
Surgery to correct scoliosis in children
Joint and Arthroplasty Clinic
Knee arthroplasty for patients with osteoarthritis of the knee, hip dysplasia and avascular necrosis
Surgery to correct erosion of prosthesis
Joint replacement surgery
Surgery to correct bone angles
Hand and microsurgery for patients suffering problems with their fingers, hands, arms and nerve roots
Replantation surgery for fingers, arms, hands, tendons and nerve roots and microscope surgery to correct brachial plexus injury
Surgery to correct hands disability and tendon transfer
Endoscopic Carpal Tunnel Release (ECTR) to cure trigger finger and carpal tunnel syndrome
Elbow and wrist arthroscopy
Carpal bone fracture surgery
Treatment and surgery to connect hand tendons
Treatment of failed back syndrome (Click to read more information at Revision Spine Center)
Rehabilitation Centre